A

bout Sacred Sites Research

Larry Loendorf, President of Sacred Sites Research Inc., is native to Montana. He was educated at the University of Montana (BA and MA in anthropology) and the University of Missouri, Columbia (PhD in anthropology). He taught anthropology and archaeology and completed research at several universities with the longest tenures at the University of North Dakota (1971-1992) and New Mexico State University (1996-2006).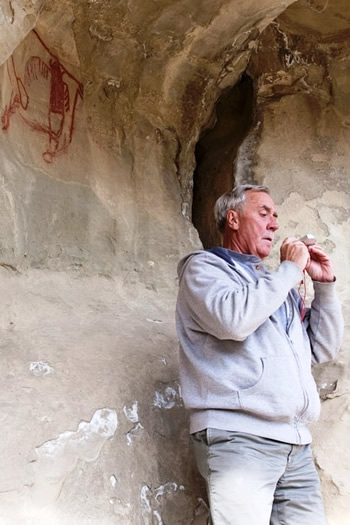 Loendorf received numerous awards for teaching and research including a University of North Dakota Recognition Award for Outstanding Teaching, Research, and Service (1993), the Alexander Griggs Award for Outstanding Service in Historic Preservation, City of Grand Forks (1991), and the Lydia and Arthur Saiki Award for Undergraduate Excellence in Teaching (1983). In 2007, he was awarded the Klaus Wellman award for distinguished service in rock art by the American Rock Art Research Association.
Loendorf has written four books on rock art, nine chapters in books on rock art, seventeen monographs on rock art and numerous articles about rock art related topics. He is the lead author of a manual on rock art recording that has been used extensively around the world.
Loendorf is highly recruited for public lectures. In 2013, he gave the Public Lecture for the Texas Archaeological Society meeting in Del Rio, one of the Public Lectures for the International Federation of Rock Art Sites meeting in Albuquerque, and a Guest Lecture at the Utah Rock Art Research Association meeting in Moab. He also delivered lectures for the Albuquerque Archaeological Society, the Southern Nevada Rock Art Association, Pictograph Cave State Park, Billings, Montana, and the Carbon County Historical Society, Red Lodge, Montana.
Recent Projects


Clients
We are pleased to count among our clients the following organizations:
Geo-Marine
J.E. Canyon Ranch, southeastern Colorado
Bureau of Land Management, Lander, Wyoming
U. S. Army, Piñon Canyon Maneuver Site, Fort Carson, Colorado
Bureau of Land Management, Havre, Montana
New Mexico State Historic Preservation Office, Permian Basin projects
Collaborators
Claire Dean and Associates
Sacred Sites Research is a non-profit (501c3) company.
Quick Links:
Donate:
Sacred Sites Research, Inc. (SSR) undertakes funded projects at competitive costs, but SSR primary personnel do not receive salaries or compensation. Instead we use that money and the assistance of other volunteers to record rock art sites where no funding is available.
Support the protection and preservation of rock art sites. Your tax deductible dollars will be used saving rock art sites.