R

ock Art Documentation

The documentation of rock art sites has changed significantly in the past three decades. Global Positioning System instruments and digital photography are two important changes but, as with many new technologies, there have been many spinoffs that are useful for recording rock art sites.

Unquestionably the greatest changes in rock art recording are the use of Global Positioning System (GPS) instruments and digital photography. Less than two decades ago, in a study on potential recording methods for Petroglyph National Monument, New Mexico the researchers lamented the fact that the GPS instruments were expensive, and it was difficult to obtain good coordinates in the field. Of course today, GPS instruments are cost effective and there are greater numbers of GPS satellites and better technology. As a consequence, rock art recorders extensively use GPS instruments to locate and record coordinates of sites and panels. They also use this relatively inexpensive technology to make site maps and to plot motif types across the larger landscape.

As GPS technology has offered tremendous advantages to rock art recording, digital cameras have also made for great improvements. A good many rock art recorders were slow to move to digital cameras. We enjoyed our film cameras and early digital images did not compare or surpass film for capturing color, clarity or depth of field. For many years, recorders used 35mm slide cameras for the original images and then scanned these into computers for use with digital image enhancement programs. But as the photography industry improved digital sensors with the advancement of Digital SLR (Single Lens Reflex) cameras, we moved completely from film to digital, mostly because of the ease by which an image could be viewed in the field. The immediacy, ease, reduction of film and processing costs, outweighed any difference in the quality of the finished product. Indeed, there are those who would argue that digital images have surpassed film for quality photographs.

Furthermore, advances in computer software offer rock art photographers the opportunity to enhance, augment, control, and manage their photographs in new ways. Image editing programs allow for manipulation of color channels to generate enhanced depictions of a rock art image and, computer mosaics created through stitching programs creates the opportunity to combine close-up exposures, with clarity and detail, into full size panoramas. Image cataloging software now provides a method for managing thousands of photographs and associated information in an easy to access database.

At first the researchers took the digital images home to work with them on desktop computers. Then they took laptop computers to the field so they could download the digital images for study and manipulation while they were at the site. Today recorders are exploring the use of digital tablets with built-in digital cameras and video cameras to directly capture an image. This image can then be stored with its GPS coordinates for use in other research. Now with advancements in tablet drawing applications, a field researcher can use the camera-image to directly draw the rock art panel on the screen and then capture the resulting product as the panel drawing.

Improvements in software technology to capture rock art paintings have also made impressive strides forward in recent years. Especially notable is Jon Harman, a North American rock art researcher, who developed the D-Stretch program to specifically work with rock paintings. Harman has made D-Stretch available to the rock art community for free (or at a nominal fee) and researchers around the world have made use of this effective software.

Major changes have also been made with three-dimensional recording. Some of this is with laser scanning but other three dimension work is with improved software. Archaeologist, Mark Willis has experimented with Structure from Motion to record three-dimensional images at rock art sites. This technology differs from a normal photogrammetric process in that it relies on hundreds of photographs rather than overlapping sets of photographs. Using software programs that search for similar point clouds in the digital images, it is possible to create overlapping data sets and three-dimensional images.

Mark Willis is also working with a technique called x-shading to bring out the contour layers in the rock to enhance the petroglyph. The resulting images are a significant improvement over normal two-dimensional photographs and the results can be used as stand-alone depictions of the panel and they are useful as an aid for making scale drawings of the petroglyphs.

In spite of this technology, Sacred Sites Research recognizes that drawings of rock art panels are an essential part of documentation. We have developed techniques that decrease the time needed for each panel drawing.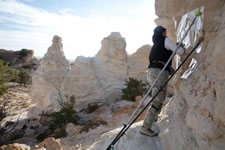 LAURIE WHITE is tracing a panel at the Castle Gardens site; Wyoming. Sacred Sites Research uses weighted tripods to hold the tracing film in place. Rock art conservators recognize that the sticky-stuff on tape is potentially deleterious to the rock art panel, so this innovative Sacred Sites Research tracing method is used to obtain an accurate representation of the rock art with minimal impact to the panel surface. The project was undertaken at the request of the Bureau of Land Management, Lander, Wyoming.
Panel Drawings
Drawings of rock art panels are an essential part of documentation. For large and complicated panels, they can be time consuming and difficult to complete.
Sacred Sites Research, Inc. has developed techniques that decrease the time needed to complete each panel drawing. These techniques allow us to complete documentation projects efficiently, accurately and for reduced costs.
Sacred Sites Research is a non-profit (501c3) company.
Quick Links:
Donate:
Sacred Sites Research, Inc. (SSR) undertakes funded projects at competitive costs, but SSR primary personnel do not receive salaries or compensation. Instead we use that money and the assistance of other volunteers to record rock art sites where no funding is available.
Support the protection and preservation of rock art sites. Your tax deductible dollars will be used saving rock art sites.